LFA BRINGS
FEATHERWEIGHT WORLD TITLE FIGHT
TO THE "SOONER STATE" IN AUGUST

LFA 18 - AGUILAR vs. RADER






MAIN EVENT:

LFA FEATHERWEIGHT CHAMPION
KEVIN "ANGEL OF DEATH" AGUILAR
vs.
LFA #1 CONTENDER
JUSTIN "DARTH" RADER

FEATHERWEIGHT WORLD TITLE


CO-MAIN EVENT:

BRENDAN ALLEN
vs.
CHRIS HARRIS

MIDDLEWEIGHT SHOWDOWN


SPECIAL ATTRACTION:

UFC VET
MIKE "THE TRUTH" JACKSON
vs.
Cris Cyborg's older brother
RAFAEL "JACKAL" JUSTINO

WELTERWEIGHT WAR


FRIDAY, AUGUST 4th LIVE on AXS TV
FIRELAKE ARENA in SHAWNEE, OKLAHOMA
Tickets are on sale NOW through StubWire.com


HOUSTON, Texas - Legacy Fighting Alliance (LFA) CEO Ed Soares announced today that the promotion will be bringining a featherweight world title fight to Oklahoma to kick off a busy August schedule.

The main event of LFA 18 will feature the return of LFA featherweight champion Kevin "The Angel of Death" Aguilar. He will put his title on the line against LFA featherweight #1 contender Justin "Darth" Rader in one of the most highly-anticipated featherweight title fights of the year. LFA 18 - Aguilar vs. Rader takes place Friday, August 4th at the FireLake Arena in Shawnee, Oklahoma. The entire main card will be televised live and nationwide on AXS TV at 9 p.m. ET / 6 p.m. PT.

"LFA is bringing a featherweight world title fight to Oklahoma at LFA 18," stated Soares. "Kevin Aguilar is the LFA featherweight world champion and one of the most exciting prospects in the sport. He won the title with one of the best knockouts of the year at LFA 4. Aguilar will defend his title for the first time against Justin Rader, who is a world-class grappler and the #1 contender. Rader earned his shot at the title with his big win at LFA 15."

Tickets for LFA 18 - Aguilar vs. Rader are available for purchase NOW at StubWire.com.

Aguilar (12-1) has long been considered one of the top pound-for-pound prospects in MMA. In February, the final Legacy FC featherweight champion strengthened that argument by capturing the inaugural LFA featherweight title against his longtime rival Damon Jackson with one of the most talked about knockout victories of the year. The proud Texan trains alongside LFA welterweight champion Derrick Krantz in Longview, Texas, but will have his first title defense on the road. Aguilar will put his title on the line when he heads into enemy territory to face one of the most revered fighters in the state of Oklahoma.

"I've been training nonstop and getting ready for defend my title. Now I get to show everyone what I've been working on," Aguilar explained. "I'm looking forward to fighting in enemy territory, because that is the life of a champion. I will win over the crowd with an exciting fight. Justin Rader is a world-class grappler and I'm excited that he signed the paperwork. He has earned his shot. I have been training harder than I have ever trained before and I can't wait to defend my title at LFA 18."

Rader (7-2) is one of the most decorated grapplers to hail from a state that is synonymous with grappling. The proud Oklahoman is a two-time IBJJF no-gi jiu-jitsu world champion as a black belt, he is a 2013 ADCC Submission Grappling World Championship bronze medalist, and he was the runner-up in the Oklahoma high school wrestling championship in 2005. Rader also holds the distinct honor of being Rafael Lovato Jr.'s first black belt in jiu-jitsu. Rader will now look to add the biggest piece of hardware to his massive trophy case when he vies for the LFA featherweight title.

"I'm fighting The Angel of Death. His nickname says it all," Rader exclaimed. "Kevin Aguilar is without a doubt, the best fighter I have ever faced. He is extremely dangerous, seasoned, and his fight demeanor is second to none. He stays at home and doesn't force anything. The best opponents always pull the best out of me. I just fought a little over a week ago, so to be able to turn around and fight for the title four weeks later is a great opportunity. When opportunity knocks, I answer."

The co-main event of LFA 18 will feature a high-stakes middleweight showdown between two of the most popular middleweight prospects in the promotion. Brendan Allen (7-2) returns to the LFA Octagon after engaging in a five-round war with Eryk Anders for the inaugural LFA middleweight title in the main event of LFA 14. He came up short on the judge's score cards, but won over a large new fan base due to the entertaining title contest that is a front-runner for "Fight of the Year". Allen now looks to bounce back into title contention when he faces Chris Harris (9-1) in the co-main event of LFA 18. Harris is coming off a dominant win over Cortez Coleman in the co-main event of LFA 15 last month. He utilized his impressive striking skills throughout the contest and is eager to do the same next month in the co-main event of LFA 18.

LFA 18 will also feature a special attraction at welterweight. Rafael "Jackal" Justino (2-1) will make his LFA debut just six days after his younger sister Cris "Cyborg" Justino fights for the UFC women's featherweight tile at UFC 214. He will meet UFC vet and wildly popular media personality Mike "The Truth" Jackson (0-1) who holds the impressive distinction of being one of only a handful of fighters to make their professional MMA debut in the UFC.

Currently Announced Main Card (Televised on AXS TV at 9 p.m. ET / 6 p.m. PT)

Main Event | Featherweight Title Bout (145 lb)
- Kevin Aguilar (12-1) vs. Justin Rader (7-2)

Co-Main Event | Middleweight Bout (185 lb)
- Brendan Allen (7-2) vs. Chris Harris (9-1)

Welterweight Bout (170 lb)
- Braden Smith (8-1) vs. Chancey Foxworth (6-4)

Welterweight Bout (170 lb)
- Rafael Justino (2-1) vs. Mike Jackson (0-1)

Bantamweight Bout (135 lb)
- Tyler Shinn (8-3) vs. Chris Kelades (9-3)

Lightweight Bout (155 lb)
- Daryl Wilson (6-1) vs. Jarrod Card (16-8-1)

In September, Legacy FC and RFA officials announced that they would be merging to form the premier developmental organization in Mixed Martial Arts (MMA) starting in January 2017. Legacy FC and RFA have launched the careers of over 100 athletes that have reached the pinnacle of MMA by competing in the UFC.

LFA 18 will serve as the third LFA event to take place in the state of Oklahoma after the merger. Legacy FC visited "The Sooner State" seven times before the merger. Further information about LFA 18 will be announced soon. The entire main card of LFA 18 will be televised live and nationwide on AXS TV at 9 p.m. ET / 6 p.m. PT.
Please visit LFAfighting.com for bout updates and information. LFA is on Facebook at Legacy Fighting Alliance. LFA is also on Instagram at @LFAfighting and Twitter at @LFAfighting.

About LFA:
LFA is a professional Mixed Martial Arts promotion that gives rising stars and top contenders the opportunity to prove their talent to fans and leaders in the industry. LFA was formed by the powerhouse merger between RFA and Legacy FC. LFA presents live Mixed Martial Arts events on a monthly basis around the United States including Las Vegas, Los Angeles, Denver, Dallas, and Houston. LFA can be seen live in over 48 million homes nationally through its television deal with AXS TV. Based in Houston, TX, LFA is one of the most active and respected MMA organizations in the fastest growing sport in the world. (The Octagon, Ultimate Fighting Championship®, UFC®, and the eight-sided competition mat and cage design are registered trademarks owned exclusively by Zuffa, LLC. All rights reserved).

About AXS TV FIGHTS:
AXS TV Fights presents more LIVE mixed martial arts and kickboxing events than any other television network with 45 scheduled LIVE world-class fight cards in 2017 Friday nights at 9pE/6pP. AXS TV Fights can be found online, on Facebook and on Twitter. AXS TV is widely distributed in the U.S. via AT&T U-verse, Charter, Comcast/Xfinity, DIRECTV, DISH, Sling TV, Suddenlink, Verizon FiOS, and other cable, satellite, telco and streaming providers. The network is also carried in Canada, Mexico and the Caribbean.

About FireLake Arena:
FireLake Arena offers 5,000 seats and more than 52,000 square feet of event space for concerts, conventions and community events. FireLake Arena joins other Citizen Potawatomi Nation enterprises, including FireLake Entertainment Center, The Ball Fields at FireLake, Firelake Bowling Center, FireLake Golf Center, FireLake Mini-Putt and FireLake Discount Foods, to add to the diverse FireLake region of entertainment options.
Event Details
(Mouse over to zoom)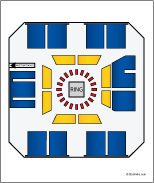 View Larger Image
This show is All Ages
Date:
Friday August 04, 2017
Doors:
5:30 PM
Promoter: