This event has been canceled
If you purchased your tickets online, please check your email for full details about this event.
CHICK MCGEE Born in London, Ohio. Chick began his broadcasting journey in West Virginia but eventually made it to WFBQ's sister station in Indianapolis. When they had enough of him, he came on the Bob and Tom Show to do sports, take on announcer and commercial duties and assume the role of the one and only Mr. Obvious. Drew Hastings If it appears that critically acclaimed comedian Drew Hastings is looking down on you, he probably is. At 6'6", Drew's astute observations on the decline of American society have made him a favorite throughout the Midwest and coast-to-coast for more than 20 years. Drew's humor stems from his own personal angst and his relatively new fish-out-of-water lifestyle by leaving Hollywood and landing, as a cattle farmer, in small town America. Thus, his new tour "Farmageddon" is aptly named. From "The Tonight Show with Jay Leno" to his critically acclaimed one-hour Comedy Central special "Irked and Miffed," Drew has done it all. As newly-elected mayor of his small town of Hillsboro, Ohio, he now finds himself in an unlikely mix of having one foot in show business and one foot in small town politics. He is also an avid supporter for agriculture, often taking on fringe groups that often attack modern farming practices. As he always finds himself "on the edge" of normal, he is a self-proclaimed "alternative conservative" and the most unlikely farmer you will ever meet. Tim Wilson Forty five years is hard to squeeze into a web page so here are the basics. Born August 5, 1961 in Columbus Georgia. Parents were school teachers so Tim Wilson grew up on mustard sandwiches, playing Little League baseball and Pop Warner football and making straight A's in School. "I grew up listening to a ton of AM radio during the commute back and forth to games and I memorized most of the records that played on two jukeboxes at a Tom's Foods employee swimming camp where my father and older brother were lifeguards for about sixteen years. That was my musical training." A born ham, he developed a talent for doing impressions of teachers and anybody he saw on television which got him involved in numerous talent shows. "My mother would take me to her school sometimes and I would entertain her classes with this act I had put together. I actually did my first pro show when I was about 11 at some soldier at Fort Bennings' birthday party and I got paid 15 dollars for it, which was double what we would all later get paid at The Improv in New York." By high school, his grades had gone to hell and Tim started writing songs about all the girls who wouldn't go out with him. There were a lot of songs! Tim decided he wanted to be in the music business. "I was playing football and running track and dragging around a guitar and listening to every record I could get my hands on. Eventually I became a huge fan of Clapton and a bunch of Southern Rock groups: mainly Lynyrd Skynyrd and the Atlanta Rhythm Section." Tim finagled a part time job as a sports writer at the local paper and would later moonlight as a concert reviewer. "I was kinda like the kid in Almost Famous except instead of working for Rolling Stone, I was at the Ledger Enquirer in Columbus." "Short version, I went to review an Atlanta Rhythm Section concert and met the drummer Roy Yeager. I told him I was a songwriter and I'd heard he was a producer and I wanted to send him some stuff. I mailed it to him and about three months later he called me and brought me up to Studio One in Doraville where they recorded and we made some demos. That is where I got close to real show business. I always tell people I got in show business going to the Waffle House and getting the Atlanta Rhythm Sections orders right!" Somewhere in there he graduated college. So I'm renting this bullshit apartment in Atlanta, but mostly sleeping on Dean Daughtry of ARS's couch,working a job at a one hour eye wear store that Roy's wife Laine had found for me and I drive this girl I work with home one day and pass something I'd never heard of: A COMEDY CLUB. I show up on open mic night and am informed that you can make more money telling jokes than you can selling glasses. So I go up and do three jokes I'd written and my impression of Richard Pryor's MudBone. I meet my manager Chris DiPetta the same night and here we go. Suddenly Songwriter Boy is a Comedy Man. The rest of it is a long story.
Event Details
(Mouse over to zoom)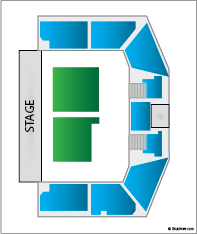 View Larger Image
This show is Recommended 18+
Date:
Saturday Jan 25, 2014
Doors:
6:00 PM
Promoter: