Born and raised in Maypearl, Texas, country music singer/songwriter. Bart made his first attempts to write songs while in the United States Army and started first performing live while studying at Tarleton State University in Stephenville, TX.

Crow has put together an impressive track record as a recording artist, having lofted six No. 1 singles onto the Texas Music Chart - one of which, "Wear My Ring," sold over 165,000 copies. He has sold over 40,000 albums, released five self-co-produced records in just over a decade, including Dandelion, which debuted at No. 1 on Billboard's Heatseekers South Central chart. He's been cheered in Country Weekly, on CMT, and one of Rolling Stones "artists you need to know".

He is also a dedicated husband and father with a passion for supporting Veterans. "Being a Veteran I will always pay homage to our brothers & sisters who heed the call to volunteer & preserve our peace & freedom….". Crow displays this in his self-penned song "Broken" from album "Heartworn Tragedy".

The year 2017 for Crow was a year to broaden his horizons, spread his latest release to new ears and expand his craft by traveling to some new countries including several countries across Europe. He recently partnered with True Grit Talent Agency, owned and operated by Arthur Penhallow JR. formerly of Punch Enterprises and C3 Management. The True Grit roster includes Cody Jinks, Sunny Sweeney, Whitey Morgan, Ward Davis & many more noteworthy acts.

2019 has shaped up to be a busy year for Bart with tours booked across the country and many more dates to be released along the way. 2018 found bart playing well over 100 shows as well finding time to get into the studio to record.
Event Details
(Mouse over to zoom)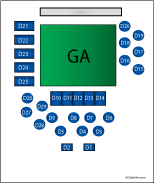 View Larger Image
This show is 18 & Over
Date:
Saturday Dec 12, 2020 at 08:00 PM
Doors:
7:00 PM
Promoter: