Billy Mata & the Texas Tradition is known for startling audiences - and other musicians - with a 'different' kind of country music. Mata's band recreates the original tradition of Western Swing. They thrive in the unique tradition of historic Texas Dancehalls that provide real, danceable, country music for the whole family, from kids to grandpa.

Mata started his recording career in the 1970's singing Billboard charted, Top 40 Country music. However, in the 1990's he declared his passion, what he calls "real country music." Beginning with his 1998 (third) album release, Keepin' The Tradition: A Tribute To My Heroes, Billy insisted on recording with his own stage band to properly perform the music he truly prefers: real Bob Wills Western Swing and Traditional Country. "It's from the rich roots of Texas music, inspired by the masters of the style who thrived when Texas music nationally rivaled Nashville music on the radio," Billy says. The result was awards and new radio exposure. He kept his music on the radio with two subsequent CD album releases; Traditionally Yours, Billy Mata in 2004 and Domino Effect in 2006 with Grammy award winner, Floyd Domino.

Billy Mata is a Texas music scene veteran with over a quarter-century of making music with his own Texas Western Swing Hall Of Fame band, The Texas Tradition. Two-time Academy Of Western Artists Western Swing Vocalist of the Year and winner of the Academy's Entertainer Of The Year award, Billy Mata delivers authentic Western Swing and true traditional country music. Mata's career jump started as a featured singer with Tommy Morrell and and the Time Warp Top Hands on Larry Scott's syndicated radio show, The Lincoln County Cowboy Symposium Of The Air. That lead to guest appearances with the Texas Playboys featuring Tommy Allsup and Leon Rausch. From there Billy was invited to perform at the West Texas Western Swing Festival in Snyder, Texas and following that, at the Lincoln County Cowboy Symposium in Ruidoso, New Mexico where now he is invited to entertain annually. He has gone on to become the heir apparent to the Bob Wills tradition as the Voice of Western Swing.

"Billy Mata and his boys were creating a storm of interest and energy everywhere they went. Take a group of musicians of this caliber of talent and add a front man with a style that brings together the sophisticated swing of Nat Cole and mix it with the dusty soul of Oklahoma and Texas you have a concoction that brings a sense of joy and human contact that cannot be touched by today's technology generated so-called music." - Billy Wilson, Sacramento Jazz Jubilee.

"For 30 years, Billy Mata has been entertaining audiences and winning awards with his ringing baritone. Add to that fiddle and pedal steel-guitar players of jaw-dropping skill and classic tunes, and you've got a Texas-sized slice of Western swing heaven." - Sacramento News Review

Billy Mata & the Texas Tradition has enjoyed regular rotation on SIRIUS/XM's Willies Place and worldwide traditional country radio stations. Mata's CD album releases, "Keepin' The Tradition", "Traditionally Yours, Billy Mata", and "Domino Effect" are a mix of Western Swing and Traditional Country with occasional smooth ballads and pop jazz tunes. "Domino Effect" features Grammy winning piano man Floyd Domino, a founding member of Asleep At The Wheel.

In 2008 This Is Tommy Duncan, Volume One (featuring the big band years) was released. The first of an historic Trilogy Tribute to the 'Voice of Western Swing,' it includes guest appearances by historic patriarch/creators of the Western Swing phenomenon. Designed to bring attention back to the Bob Wills vocalist who lived in the shadow of the king, the CD was awarded the 2009 Western Swing Album of the Year by the Academy of Western Artists.

This Is Tommy Duncan, Volume Two " (featuring the years of Tommy Duncan's own band) was released in the Spring of 2011 continuing the Trilogy." Volume Three is planned for future release and will cover Tommy Duncan's return to Bob Wills and his Texas Playboys.

"By Request" is a special collection of the most asked for Western Swing and Traditional Country Honky Tonk Dancehall songs at Billy Mata live performances -- recorded in the studio -- By Request!

In January 2018, This Is Tommy Duncan: The Trilogy, was completed and released. Volume 3 features the early 1960's, when Bob Wills and Tommy Duncan were reunited.
Event Details
(Mouse over to zoom)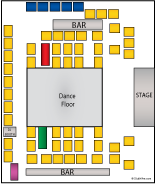 View Larger Image
This show is 21 & Over
Date:
Saturday May 04, 2019
Doors:
7:00 PM
Promoter: