Bobby Iwin
"I'm very blessed, but the bottom is too crowded," says Bobby Irwin.

Bobby Irwin is a talented singer-songwriter from the backroads of Quitman, TX, with a sound that is anything but small town. This young man got his start strumming a guitar by his grandpa's side at 11 years old, and was awarded Texana Troubadour Singer and Songwriter before ever graduating high school. Now, with an arsenal of original songs under his belt, he's shooting for the stars and running after his dream.

Bobby began playing Junior High dances, and in what seemed like just a minute, he was on stage with Zane Williams at TXM in Lindale. He may have tripped and fell off the stage that night, but he landed in his destiny as the young musician of East Texas to be on the lookout for.

Since jumping into music with both feet, Bobby has had the opportunity to share the stage with his good friend Dylan Wheeler many times. Dylan has made a name for himself on the Texas Country music scene, and Bobby has been taking notes.

Bobby Irwin has also opened for and played with well-known artists such as Jason Boland & The Stragglers, Huser Brothers, Black Top Mojo, Curtis Grimes and The Steel Woods.

In 2020, Bobby competed against 60 singers and songwriters from all across Texas and Oklahoma in the TXM Records Texana Troubadour Singer and Songwriter Contest. Entering the contest at the last minute, he wrote 14 songs in under two months, letting the words organically flow from a life as a teen in rural East Texas. He went on to win the contest as one of the youngest musicians to ever take the winning guitar home.

Following in the footsteps of Koe Wetzel and Cody Johnson, Bobby competed at the Texas FFA State Convention in Fort Worth in July 2021. He represented Area 6 against 12 competitors from every region of Texas in front of over 15,000 spectators.

For the first time in FFA Texas State Convention history, Bobby won first place in the Talent Competition with the People's Choice and the Delegates' Vote.

In his songs, a mix of soul from Texas Country slams into Southern Rock, creating a new sound that Bobby calls Rockin' East Texas Country. He took his inspiration from greats like Johnny Cash and weaved it into the vibes of Lynard Skynard and Foo Fighters, creating a music mash-up that attracts the younger country rockers as well as the more mature generation.

Bobby's music career is just getting revved up. He's already released three singles - Breaking Some Laws, The Damn Truth and 17 Going on 25. In July 2021, his summer single See Me Now will be hitting all major music platforms, and by late summer, Bobby's EP, I Can Fly, will be available.

Since winning at Texas State FFA Convention, opportunities to perform are abounding. On September 25 at 7 p.m., Bobby will be opening for Aaron Watson on the Main Stage at The Cannery Lindale Music Event, sponsored by Texas Music City and Red 55 Winery.
Event Details
(Mouse over to zoom)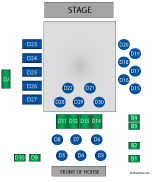 View Larger Image
This show is 18 & Over
Date:
Saturday Aug 13, 2022 at 08:30 PM
Doors:
6:00 PM
Promoter: