If you ask any number of country singers who their favorite singer is, a large number of them will respond: Gene Watson. His music peers even named him "The Singer's Singer" for his octave jumping range and smooth tone. Gene Watson has 34 studio albums, scored over 72 charted songs, including 23 Top Tens and 6 #1 hits over his Sixty-year career. Watson's first single, the self- penned, "If It's That Easy" was released on Sun Valley Records in 1962.

It is safe to say that most knowledgeable country fans would point to Gene Watson as one of country music's best ballad singers in the same league as country icons George Jones, Merle Haggard, Ray Price and others who are the standard bearers for honest, traditional country music. It's no surprise to anyone but Gene that the Grand Ole Opry asked him to be a member and inducted him into that iconic group in March of 2020, just before the world shut down for the pandemic.

It's also no surprise that such artists as Vince Gill, Lee Ann Womack, Trace Adkins, Connie Smith, Joe Nichols, Alison Krauss, and many others are not only happy, but eager to record with Gene. It's a stunning truth that at nearly 78 years of age, that Gene still sings with his clear, pure tone intact, an unmatched soulful delivery and in the same key as 30 years ago. And that is good news for fans of real country music rooted in the timeless values of one of America's bedrock musical genres.

"I think I'm working harder on each album to perfect what I do and still always working to be better," Gene notes. "I don't want anything to be so technically slick that we lose the emotion or the electricity of the moment. Each song is very personal to me and I always want the people listening to feel the emotion. Each song has a special meaning to me or I wouldn't record it."

Indeed Gene records the old-school way, live in the studio with a set of great musicians, and often singing literally in the same room as the musicians, eschewing the isolation booths normally used by vocalists. Gene

picks all the songs for his albums and works side by side with his longtime producer, Dirk Johnson.

"I feel very fortunate," Gene says, "that when I start to make an album I can call on the brilliant Nashville songwriting community and most of the songwriters there know my style and what type of songs to pitch to me. That makes my job easier. I try to choose songs I feel all people can relate to while at the same time trying to find a song that's a little bit different and unique."
Event Details
(Mouse over to zoom)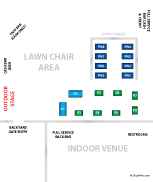 View Larger Image
This show is 18 & Over
Room:
Backyard
Date:
Saturday May 13, 2023 at 06:30 PM
Doors:
5:00 PM
Promoter: