Not available for Sale
Tickets went off Sale on Sunday Jun 23, 2019 but may still be available at the door
Singer/songwriter/drummer Johnny Bush, born John Bush Shinn III in Houston, began his country career as a vocalist and guitar player in 1952 at the Texas Star Inn in San Antonio. Eventually he switched to drums and in the early '60s began working in Willie Nelson's band, the Record Men. A year later, he joined Ray Price's Cherokee Cowboys. During his three years with the band, Bush tried to cut a record deal, but the labels felt he sounded too much like Price to be marketable. Nelson stepped in and paid for Bush to cut his first album, Sound of a Heartache. After strong local response, he first hit the charts in 1967 with the minor hit "You Oughta Hear Me Cry." The next year he had three hits, including the Top Ten "Undo the Right."

In 1972, Bush had a Top 20 hit with "I'll Be There," which led to a deal with RCA and a Top Ten hit with his song "Whiskey River," which later became Willie Nelson's signature song. Just as Bush reached the brink of stardom, he started to lose his vocal range. Doctors were not able to diagnose the reason until 1978, when they found he had a rare neurological disorder, spastic dysphonia. This did not prevent his recording, but his career soon took a downturn. Working with "voice builder" Gary Catona in 1985, Bush was able to bring back about 70 percent of his original voice. The following year he and Darrell McCall teamed up to record the successful honky tonk album Hot Texas Country. He then assembled a large country band and began performing around San Antonio.

In 1994, he and the band released Time Changes Everything and launched a major tour; the 1998 follow-up, Talk to My Heart, was regarded as one of his finest recordings in many years. Bush continued a prolific release schedule into and during the new millennium, on occasion even releasing two albums in a single year. His recordings during this period included Lost Highway Saloon and Sings Bob Wills (both 2000), Green Snakes (2001), Honkytonic (2004), Texas State of Mind and Devil's Disciple (both 2006), and Texas on a Saturday Night (co-billed to Justin Trevino) and Kashmere Gardens Mud: A Tribute to Houston's Country Soul (both 2007).
Event Details
(Mouse over to zoom)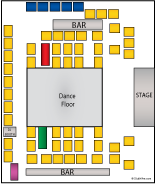 View Larger Image
This show is 18 & Over
Date:
Saturday Jun 22, 2019
Doors:
7:00 PM
Promoter: