"All grit and no quit." These are the deeply rooted words that Josh Ward lives by to an absolute fault.



An anchored mindset that has led this Texas country music rising star from a drifter's adolescence to the jeopardous game of the rodeo circuit to the punishing toil of the Texas oil fields, and on into the fickle arms of the music business. Some might argue whether it is having nine consecutive #1 hit singles in Texas under his belt that has garnered him staying power, or that he is killing it in the social media world with over 2 million views on YouTube and over 3 million streams globally on Spotify. Maybe it's his 3 venerated album releases, or maybe because he can not only bat a full house on a 200 plus dates a year touring average, but also rope in crowds on a first time performance in an unfamiliar town. While impressive, all those distinctions can come and go in the world of music. The reason for his staying power turns out to be quite a simple one. And that is because Josh Ward is country music blood to bone, and both Josh Ward and country music are simply not going to go away.

Josh spent 2017 heavily touring off the strength of his previous album "Holding Me Together." All six radio singles hit the #1 spot on the Texas Regional Radio Chart and Ward quickly found himself going from opening act to the headlining spot in a matter of months. But in the midst of his growing popularity, he gladly bent the knee to fellow country music artist and comrade Cody Johnson who introduced Ward to his West Coast audiences. Getting the chance to be endorsed by Cody Johnson and perform at sold out shows in brand new markets is the kind of opportunity music artists chomp at the bit to have. When Ward and his band returned to those areas a few months later all by their lonesome, he simply could not have guessed at the reception he would encounter. "When we went back to the West Coast by ourselves, it was sold out shows. I was literally blown away." It was at that very point while far away from his familiar stomping grounds in Texas with new fans slapping him on the back that Ward knew beyond a shadow of a doubt that his music was catching on in a big way.

The culmination of his radio success and his victories out on the road can easily be attributed to the actual man behind the music. In life, sometimes a person gets dealt a lean hand and has to choose his family from strangers along the way, people who make a conscious choice to take you under their wing and help guide you through life. Ward considers himself a very lucky man despite some rough teenage years. The love and support of his extended family and his chosen family was the concrete foundation he built.
Event Details
(Mouse over to zoom)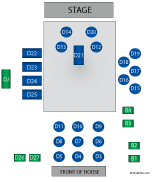 View Larger Image
This show is 18 & Over
Room:
Indoor
Date:
Friday Feb 10, 2023 at 07:30 PM
Doors:
6:00 PM
Promoter: