As part of the Young Country movement of the early '90s, Little Texas were responsible for shaking up the country music world with a new, energetic sound that fused the look and attitude of modern rock music with traditional country themes and styles, bringing a much appreciated bolt of life into the genre. For their efforts, country fans the world over richly rewarded the band, buying up over 7 million of their albums, while critics showered them with 3 Grammy nominations plus honors from both the Academy of Country Music (Vocal Group Of The Year) and the Country Music Association (Album Of The Year).
Their first radio release in 1991, "Some Guys Have All The Love," became a Top-10 hit, as did their next single, "First Time For Everything." After the album First Time For Everything was released, five singles reached the top of the charts. The second album, Big Time, truly was the big time for Little Texas.

The sophomore release, which has sold more than three million copies to date, spawned three No. 1 singles -"What Might Have Been," "God Blessed Texas" and "My Love" -and captured the group's first CMT Award, a Billboard award, a Radio & Records award and their first Grammy nomination.

Early in their career, Little Texas was designated as an arena act. They first signed on as an opener on an arena tour headlined by Clint Black. Later, they traveled with Travis Tritt and Trisha Yearwood on a tour sponsored by Budweiser. After that, they were on their own, with Crown Royal, singing to packed arenas across the United States and Canada. During this time, the band played a part in Common Thread: The Songs of The Eagles, which later earned their first Country Music Association trophy for "Album Of The Year."

The group's cover of "Peaceful Easy Feeling" charted well; albeit, without an official release, and with that, Little Texas broke another record in country music history: three different songs on three different charts with three different lead singers, all at the same time. It is a feat that has never been repeated since by any band. The year 1994 also brought the lineup an Academy of Country Music Award for "Vocal Group of the Year."

Little Texas released their Kick A Little album, and their first true arena-headlining tour began, supported by Keebler and newcomer Tim McGraw with opening act BlackHawk. The tour and the album were huge successes, highlighted by shows in Detroit and Minneapolis, where they sold out the arenas just days after their heroes, The Eagles, had played the same venues. The tour continued on through 1995, finishing as the fifth largest-grossing tour of the year, and over the course of '94 and '95, the band received two more Grammy nominations and released Little Texas-Greatest Hits.
Event Details
(Mouse over to zoom)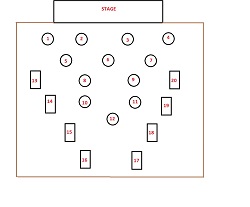 View Larger Image
This show is 21 & Over
Date:
Friday Aug 20, 2021 at 08:00 PM
Doors:
6:30 PM
Promoter: