RYE DAVIS:

Rye Davis is a modern day troubadour from Pig, Ky. Performing over 150 shows a year both as a headliner and supporting act. In that time he has opened for names like Ward Davis, The Steel Woods, Chris Knight, Brent Cobb, Sunny Sweeney, Whitey Morgan, and Bucky Covington. He has been an invited performer at Nashville's famous Bluebird Cafe and featured on ABC's Rising Star competition where Brad Paisley said " You sound a lot like Alan Jackson." Rye's smooth, distinctive vocals, captivating songs and live show energy bring his brand of country music to a whole new generation of growing listeners who never knew what country could be. Armed with a can-do attitude and determination, Rye Davis stands as a beacon of hope for the return of real, down home music.

BRANDEN MARTIN:

Authentic Country Music. Traditional dyed-in-the-wool old school vibe.

The big, soulful voice and refreshingly retro sound of Branden Wayne Martin is drawing rave reviews and earning fans in a fashion that belies the infancy of the campaign to introduce this Artist to the world.

Branden is a total newcomer to the music business, but a seasoned veteran of country music. Writing real songs about real life, the Bath County, Kentucky native is a self-taught guitarist who never considered compromising his roots to find success. Opportunity opened it's doors in 2014 when he decided to compete in the "Hoedown in the Holler", a well attended annual event, where he competed with many musicians with much more experience and notoriety- and won.

In between festivals, opening for major label artists and playing honkey tonks, Branden has recently recorded a 5 song EP entitled, "the Hell We Can Raise Today" and a 7-song EP entitled "Thoughts from the Whiskey Bench" now available for purchase and download.

Song writing, singing and enjoying playing the guitar have always come naturally to Branden. The more he gravitated towards creating music, the more those around him took notice to his raw, organic talent. Coming to the realization that stifling his calling wasn't an option, Branden has allowed himself to focus on organizing his song making to share and his journey has just begun.
Event Details
(Mouse over to zoom)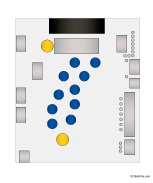 View Larger Image
This show is 21 & Over
Date:
Friday Nov 19, 2021 at 08:00 PM
Doors:
7:00 PM
Promoter: