The complexity of the music, the strength of the delivery, the pounding of the guitar's rhythm, and those vocals…wow" - TEXAS MUSIC PICKERS



Country soul singer/songwriter Zach Coffey is set to release his second studio album, 'Genesis' on August 24. The forthcoming EP finds Coffey in top form as he pushes genre lines with timeless arrangements and commanding yet seamless vocal delivery.



Recorded in Houston, TX at Stormy Cooper Media, 'Genesis' was produced by Joel Tolley and features five original tracks, four of which were co-written by Coffey. "This EP is a new start for me," explains Coffey. "I finally found the direction I wanted to head. I love the story of a song and I want the lyrics to actually say something. I had to go live life for a little while to be able to say something worth hearing. I named the EP, Genesis, because that's literally what I'm doing. I'm starting new."



Coffey's current single, 'Wildfire' kicks off the album with country rock assertion and an arsenal of captivating vocals and searing guitar riffs while "Fire Without A Flame" pushes genre lines with bluesy, R&B-tinged sentiments about taking a chance on love.



The fiddle-heavy ballad, "Nobody Frames Bad Days" offers clever commentary about social media standards and how people's lives are not necessarily how they may appear on Facebook or Instagram. The album ends with the optimistic, contemporary mid-tempo "Ease Your Mind" as Coffey urges the listener to "ease your mind/your troubling mind/when you just can't handle it, you might just mishandle it/take your time, you gotta take your time/before the world has you tangled up, stop and unwind/ease Your Mind."
Event Details
(Mouse over to zoom)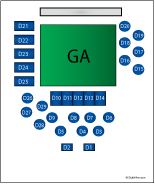 View Larger Image
This show is 18 & Over
Date:
Saturday May 16, 2020
Doors:
6:00 PM
Promoter: