This event is being rescheduled
If you purchased your tickets online, please check your email for full details about this event.
We regret to inform you that tonight's Kolby Cooper show is being rescheduled to January 30th. Your tickets will be honored on the new date. There is nothing you need to do. If you would like to receive a refund, please go to https://www.stubwire.com/help/
Below is a message from Kolby Cooper:
Unfortunately, due to corona virus protocol's we have to postpone our shows @backyardwaco & @wildwestcp this weekend. We're deeply saddened by this decision, but our sole reason is to protect our fans. We'll be back on the road as soon as possible. All other shows scheduled for our #byebye2020 will remain as scheduled. We look forward to seeing you guys out there happy & healthy! Our new date @wildwestcp will be January 15th followed by @backyardwaco on January 30th. 🤘🏻
Kolby Cooper started selling out shows and clocking millions of streams using only his songs as muscle. Three years out of high school, still living in his East Texas hometown, no label or industry machine in place, Cooper earned Spotify numbers typically reserved for household names: After only one year online, "It Ain't Me" has almost hit 7 million streams, "Every Single Kiss" has topped 4.5 million, and "Fall" is hovering around 2.7 million. When Cooper releases the anticipated Vol. 2 EP in the summer of 2020, his devoted listeners will dive into another round of his already-signature blend of searing break-up anthems and gut-wrenchingly relatable songs of loss and growth. Cooper's ragged velvet vocals are an ideal vehicle, which he layers over rock-and-roll guitar and distinctly Texas bottom-end. "I really want them to hear it and hear what we hear," Cooper says of the new songs. "It is the best stuff we've ever released."
Event Details
(Mouse over to zoom)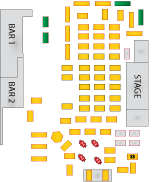 View Larger Image
This show is All Ages
Date:
Friday Nov 27, 2020 at 08:30 PM
Doors:
6:00 PM
Promoter: