Moe Bandy has had 66 charted songs with 40 Top Ten Hits and 10 #1 singles including "Americana", "Till I'm Too Old to Die Young" and "Bandy the Rodeo Clown".

Joe Stampley has had over 60 charted songs including his #1 hits, "Soul Song", "Roll On Big Mama" and "All These Things".

In 1979, country stars Moe Bandy and Joe Stampley joined forces and recorded a tongue in cheek novelty single, "Just Good Ol' Boys". The song went on to top the country chart and it led to a continuation of their partnership. The duo, commonly known as "Moe and Joe", had more novelty hits between 1979 and 1985, including "Holding The Bag", "Tell Ole I Ain't Here", and "Hey Joe (Hey Moe)".

In 1984, the then-current Boy George/Culture Club phenomenon, "Karma Chameleon" inspired the parody of "Where's The Dress". The song reached #1 for 3 weeks on the Billboard pop chart early that year. "Where's the Dress" peaked inside the Top Ten, at #8 on the country charts.

Moe & Joe were recognized as the Country Music Association's (CMA) 1980 Vocal Duo Of The Year as "Moe & Joe". They also received the Academy of Country Music's (ACM) Vocal Duo Award for two consecutive years.

The "Good Ol Boys Reunion" is a fantastic show with hits galore, and a wonderful trip down memory lane.
Event Details
(Mouse over to zoom)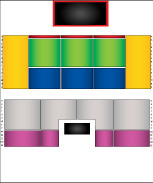 View Larger Image
This show is All Ages
Date:
Saturday Jun 04, 2022 at 07:00 PM
Doors:
6:00 PM
Promoter: