SAMMY KERSHAW: Since his debut on the music scene in the early 90's, Kershaw has remained one of the most consistent power hitters in country music-both with a chain of major hit records and sell-out touring schedules. Sammy Kershaw's plan for country music is re-claiming its roots and recapturing the spirit that made it great "Man, for someone like me who had George Jones' music imprinted in my DNA before birth, the last few years have been rough as a fan of country music," noted Kershaw candidly in a recent national interview. "Country music is not a formula…it's a music with its own soul…and I'm all about saving that soul!" Kershaw's current album "Honkytonk Boots" promises to be a much anticipated first step in that plan of salvation.

AARON TIPPIN: Twenty-Five years - a huge career accomplishment, especially in the music business. Aaron Tippin - who marks his silver anniversary as a recording artist this year - admits that he looks at his career longevity with a little bit of amazement. "I think about it and go 'Wow. What am I doing still here?' I look at the flight that we took off in," referring to his fellow newcomers at the time of his career launch. "A lot of them are gone, it seems. Some quit by choice. Some ran out from under it, but to be here twenty-five years doing it, I am the luckiest hillbilly that ever lived."

COLLIN RAYE: Born Floyd Elliot Wray on August 22, 1960 in De Queens, Arkansas, country artist Collin Raye was one of the true hit makers of the 1990's. Collin still continues to crank out soulful,heartfelt material with the honesty and richness that is signature to his vocals alone. With 24 top ten records, 16 #1 hits, and having been a 10 time male vocalist of the year nominee (5 CMA and 5 ACM), this truly electrifying performer of his era remains one of the great voices of our time. Collin Raye is nothing if not passionate. His soulful delivery has set country standards in such searing ballads as "Love, Me," "In This Life," "Not That Different" and "If I were you". Always an energizing showman, he has also blazed through such vivid rockers as "My Kind of Girl," "That's My Story," "I Can Still Feel You" and "I Want You Bad."
Event Details
(Mouse over to zoom)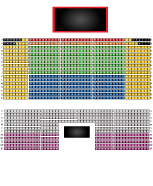 View Larger Image
This show is All Ages
Date:
Saturday Jun 17, 2023 at 08:00 PM
Doors:
6:30 PM
Promoter: