Kevin Jackson is a singer-songwriter with influences ranging from Merle Haggard to Metallica.

​

Kevin comes from a long line of musicians, from his great, great grandparents hosting Bob Wills and the Texas Playboys at their home in Broken Arrow, Oklahoma on a regular basis, to His father who, as a bassist/songwriter, was part of the late 1980s and early 1990s Hair-Band/Arena Rock era. So, it only makes sense that Kevin's musical style is part traditional country and part 1980s - 1990s arena rock.



Being from the great state of Texas, Kevin also adds the "dirt road" element to everything he does. Kevin began down this road as the interim worship pastor at a very large church at the ripe old age of 19 yrs old.


Kevin has played shows with some great artist including Radney Foster, Colt Ford, Randy Rogers, Stoney Larue, Josh Ward, Curtis Grimes, Zane Williams, Koe Wetzel, Tyler Bryant, Deryl Dodd, JB and The Moonshine Band, Hillbilly Vegas, Rod Black, Wade Bowen, Ray Wylie Hubbard, Cody Canada, Shotgun Rider, William Clark Green and several others.


Brantley Gilbert, George Strait, Cody Jinks, Kris Kristofferson, Samm Riggs, and Chase Rice have all made a huge impact on Kevin's songs for his new Self-titled EP that includes the songs Back Home, I'm Gone, Kickin It, Every Move You Make, Gonna Wanna.
Event Details
(Mouse over to zoom)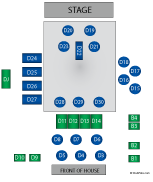 View Larger Image
This show is 18 & Over
Date:
Saturday Aug 06, 2022 at 08:30 PM
Doors:
7:30 PM
Promoter: